BLACK IN COLOUR,
GOLDEN

IN TASTE.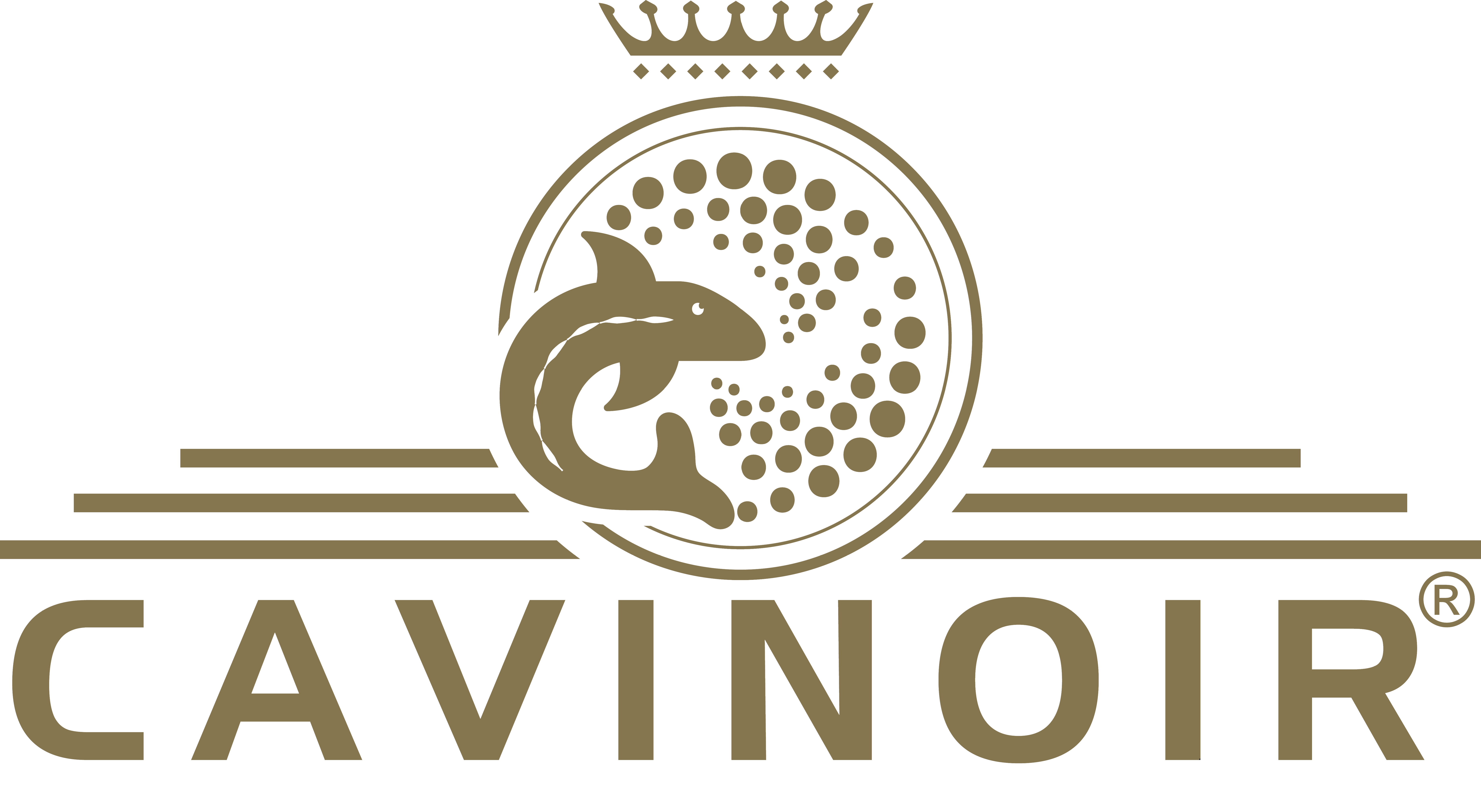 to be used as
caviar

.

CAVINOIR
You are fond of style and prefer quality. You want to enjoy the rich and intense flavour of caviar, but the high price is holding you back. With Cavinoir®, this luxury is attainable!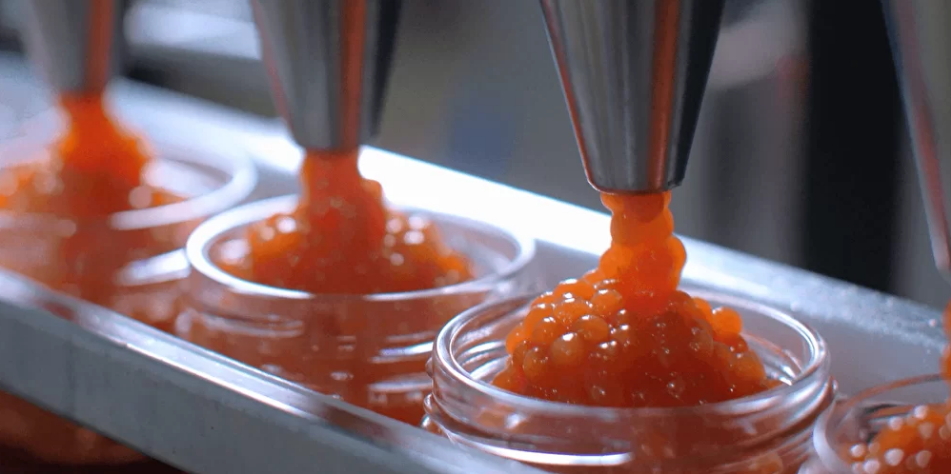 Enjoy responsibly You want to enjoy life, but enjoy it responsibly. That's why you will be delighted to hear that Cavinoir® contains very little calories and is rich in vitamins and proteins. If you choose not to eat animal products, then go for our vegan products. In producing these, we substituted our fish for high quality seaweed and spices. The experience remains the same! Next to our 'classic' and 'Imperial Selection' lines, we also offer Cavinoir® in 'Classic Vegan Style' and 'Vegan Lax Style'. Our Vegan Lax is coloured red and has the characteristic flavour of salmon roe.
Age-old tradition, hyper modern processThe secret behind Cavinoir®'s unique characteristics is a special fish broth which is encapsulated in pearls of seaweed extract. The broth's composition is so sophisticated, it mimics the flavour of the world's best caviar perfectly. Made with, among other ingredients, sturgeon meat, Cavinoir® also contains surgeon DNA. In breeding and processing the fish, sustainability and animal friendliness are important values. Cavinoir®'s texture is exactly as it should be, as well. The pearls are of the right size and consistency so that burst open in a perfect way, releasing their flavour.
PRODUCTS
All of the above makes Cavinoir® into a decadent experience which you can enjoy with full commitment. We distinguish two lines of Cavinoir®, the classic line and the vegan line. There is a fitting jar of Cavinoir® for each moment of you day. You can also order Cavinoir® at Kaviaarshop. For your convenience, we have placed direct links to Kaviaarshop under the different products.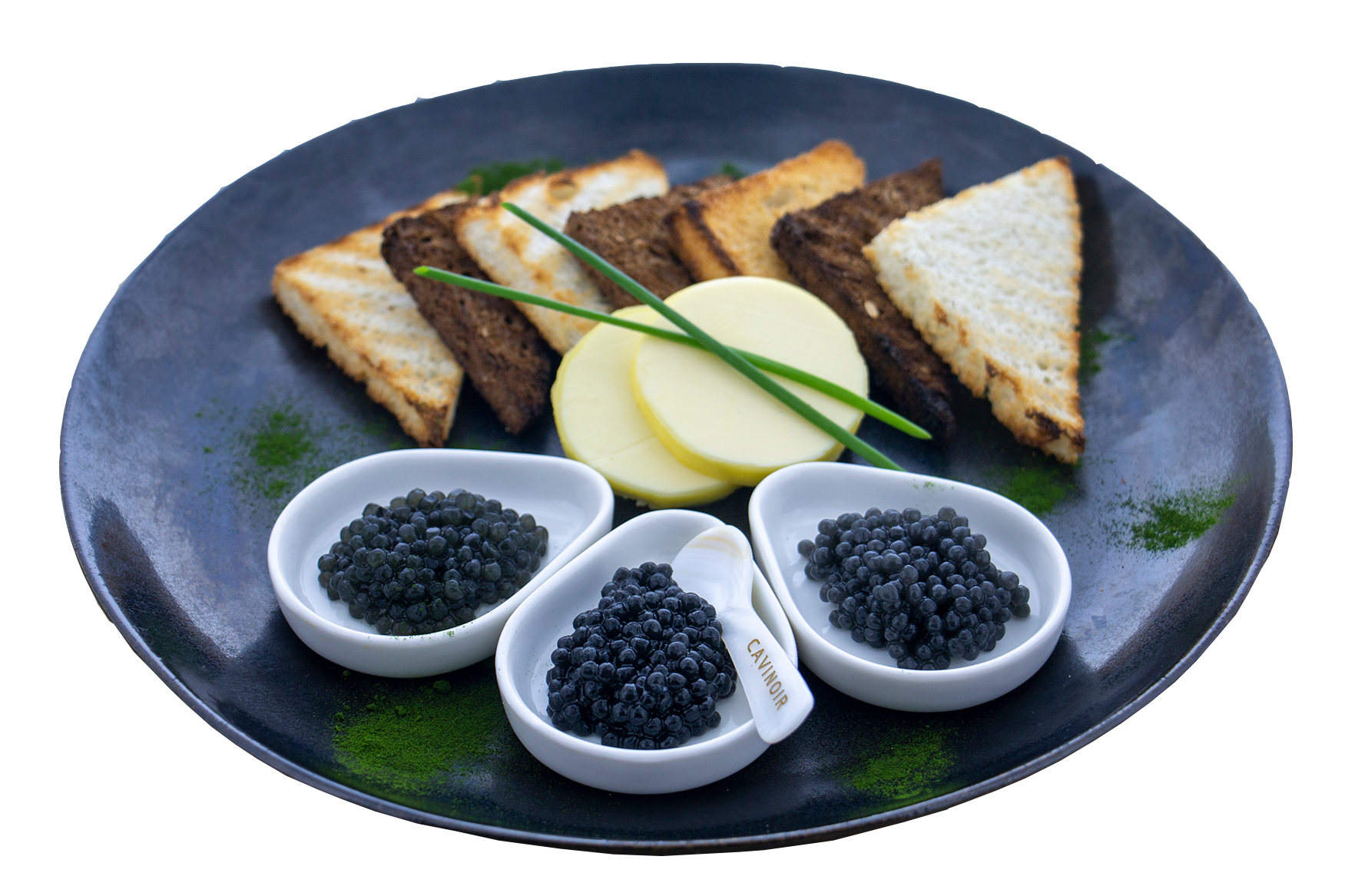 CLASSIC
Not only in flavour, but also in looks, Cavinoir® is akin to black gold. The beautiful shimmering black pearls are easily served so you can present them attractively in both small and large portions. Garnishing with Cavinoir® upgrades every dish in a fancy way.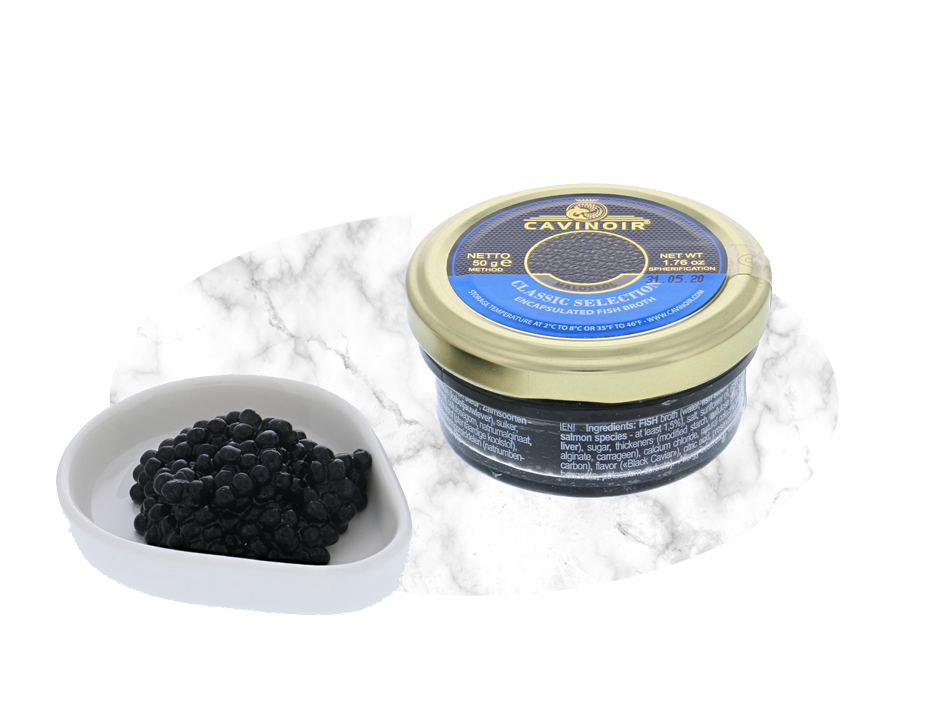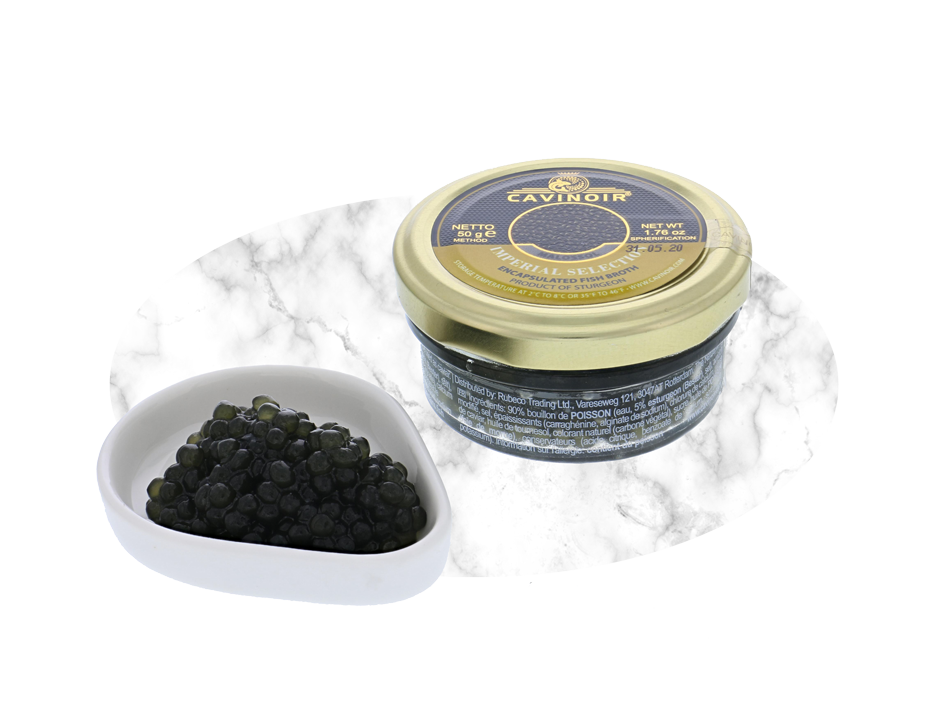 Cavinoir® classic selection
This product is characterised by its optimal similarity in flavour to natural sturgeon caviar, a delicate aftertaste and exact likeliness in size and colour. Savour it pure and experience a decadent flavour bomb. If you are chasing the power of combination, try this product on toast with butter, a blini with créme frâiche, a fish pasta or with a glass of great vodka. The possibilities are endless.
Cavinoir® imperial selection
This project contains the most noble hues of graphite black to deep sea green which are also found in natural caviar. Its taste is characterised by nuttiness and creamy notes with an aftertaste that is very soft and delicate and provides a "wow", in both look and flavour.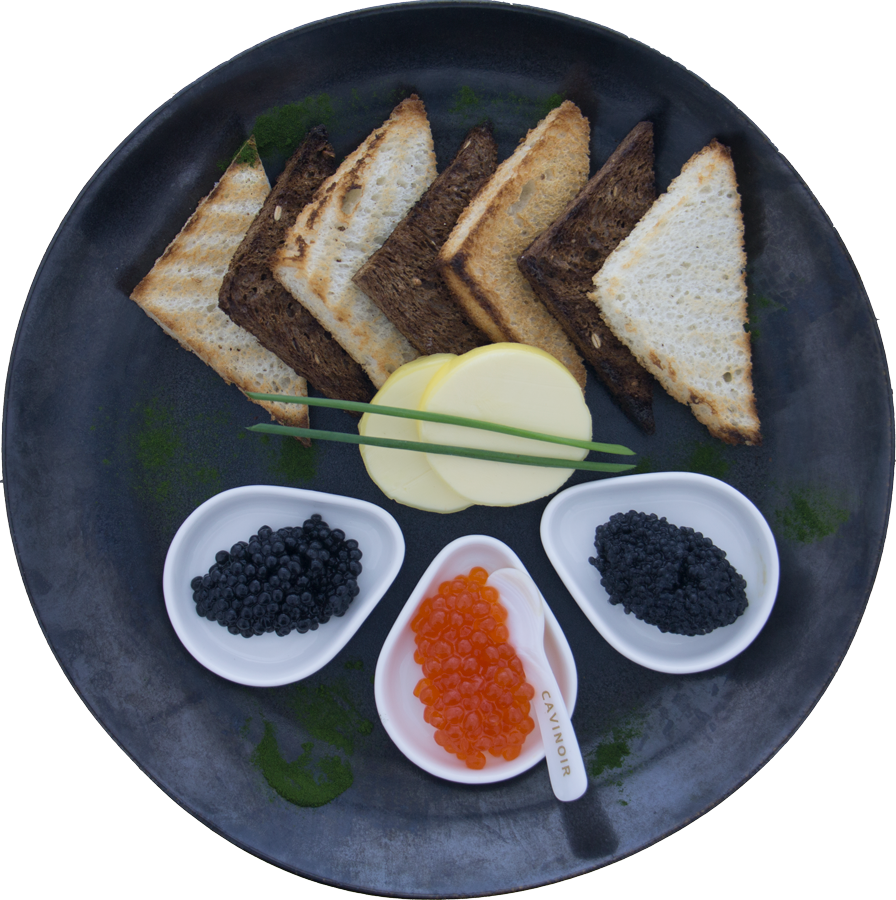 VEGAN
Our vegan products contain only natural colouring agents, are sustainable, ethical and environmentally friendly. They are made using sea weed. Delicious on their own, Cavinoir®'s vegan linke can also be used in both cold and hot sauces. Of course, our vegan products contain not animal products, no gluten and are GMO-free.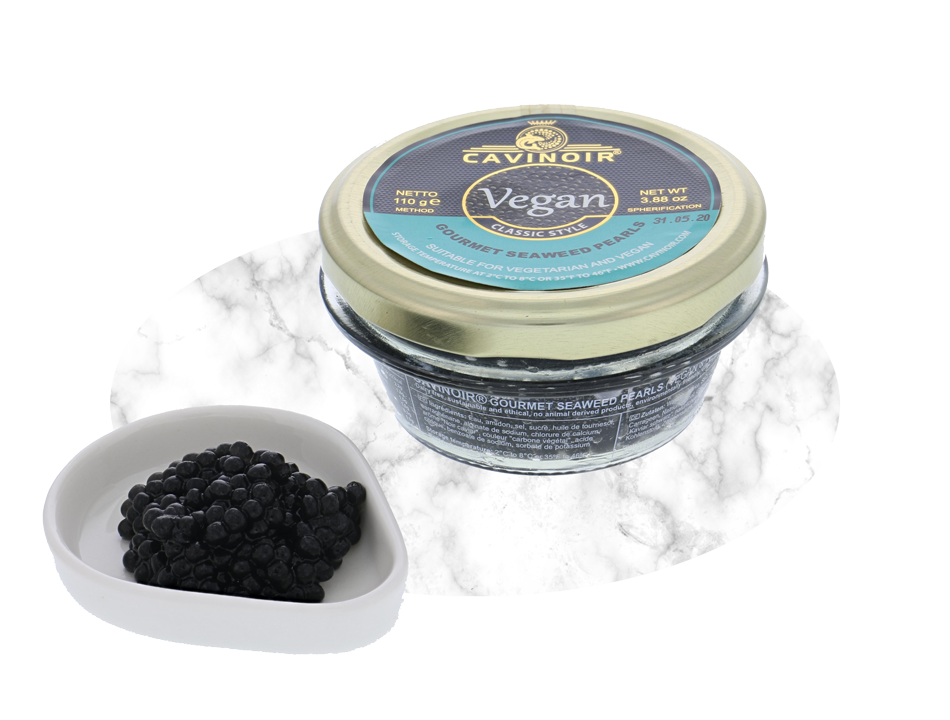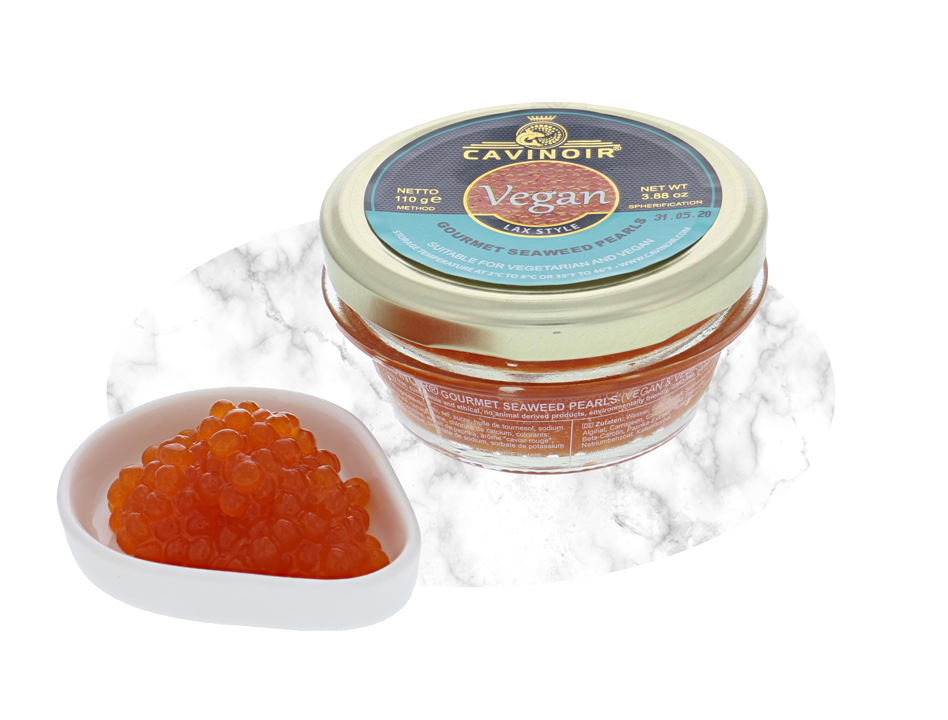 Cavinoir® vegan classic
Vegan classic style is completely devoid of animal products and is entirely plant-based. This vegan line does not place in comparison to real caviar - each pearl bursts open the way real fish roe does.
Cavinoir® vegan lax
The glistening orange pearls have a surprisingly subtle ocean flavour, they are briny, fishy, umami complex and melt on your tongue. Cavinoir® Vegan Lax is the result of an environmentally conscious production process, an exceptional delicacy and a jewel on every table.
RECIPES
Next to the amazing flavour that Cavinoir® has in and of itself, it can also be used in a wide variety of delicious dishes. Use our different products to stun your guests and present them with the ultimate taste experience.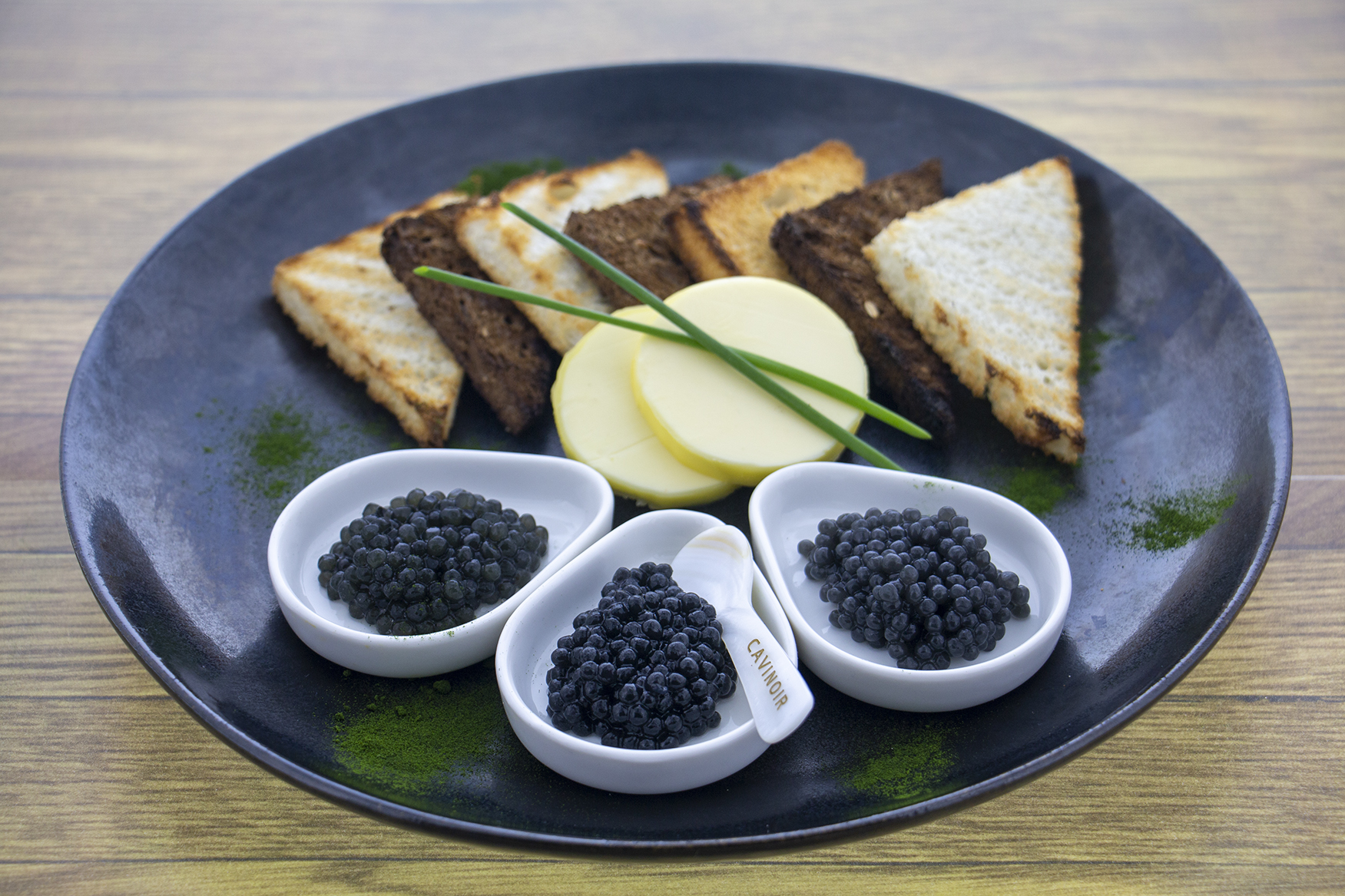 CAVINOIR® TASTING
PREPARE: Slice the crusts off the bread and toast the slices (tastes even better when toasted in some clarified butter). Slice each piece of toast diagonally to form triangles. SERVE: Scoop around 10 to 12 grams of every caviar line and arrange them on the plate. Make sure the order is the same on every plate. Plate the pieces of toast, alternating slices of white and dark bread. Cut two slices of butter per person (round is most pleasing to the eye) and place next to the toast.
8

slices of white bread
slices of dark bread

8

butter (preferably a round stick)

1

jar of 50 gram Cavinoir® classic selection

1

jar of 50 gram Cavinoir® imperial selection

1

jar of 50 gram Tzar Caviar premium gold

1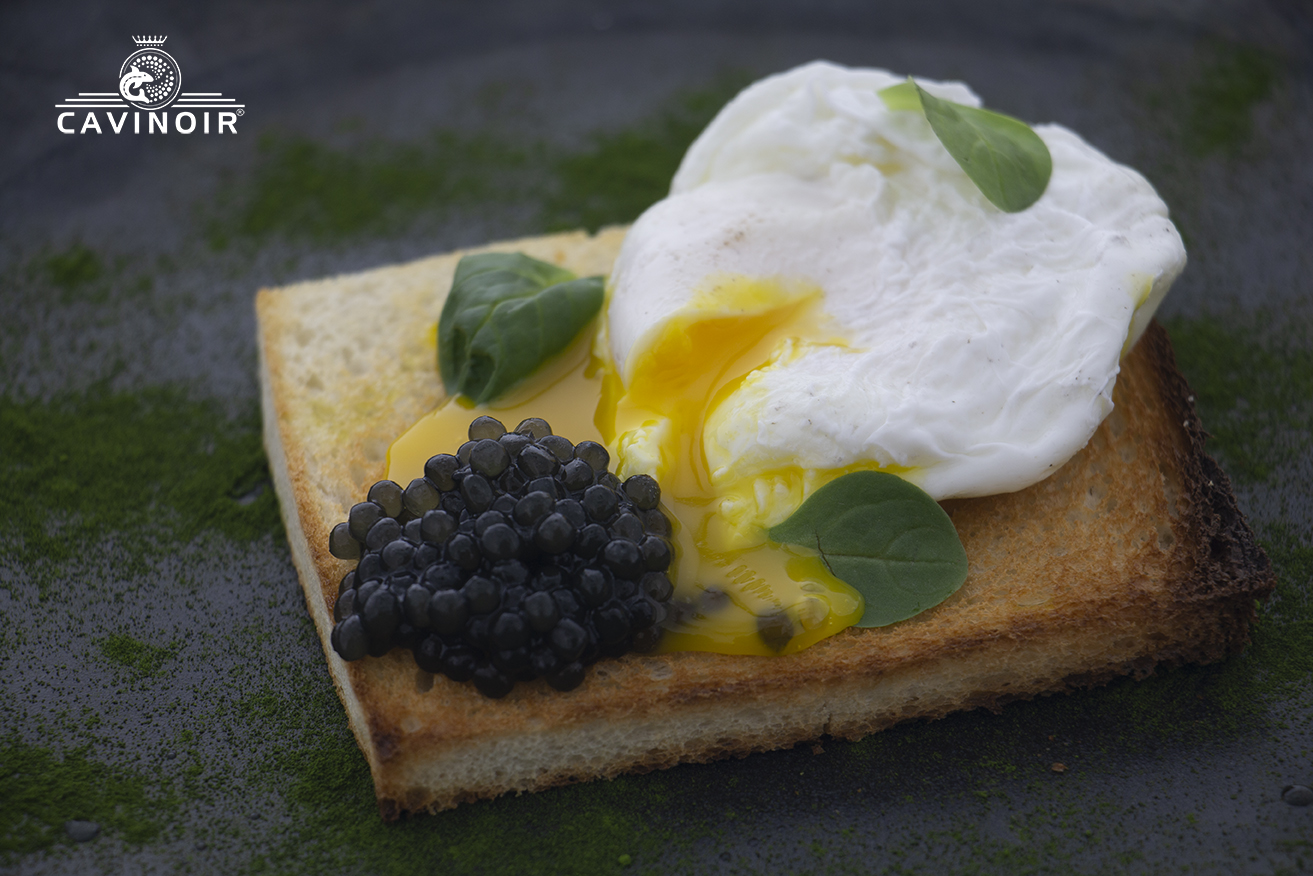 POACHED EGG WITH CAVINOIR®
PREPARE: Toast the bread in a bit of clarified butter. Poach four eggs and season to taste using salt and freshly ground black pepper. SERVE: Slice the crusts off of the toasted slices of bread. Place a poached egg in one corner of a a suitably-sized piece of toast and around 10 to 12 grams of Cavinoir® on another corner. Garnish with a few sprigs of parsley.
4

slices of white bread

4

eggs

1

dab of clarified butte r

2

sprigs of parsley

1

jar of 50 gram Cavinoir® imperial selection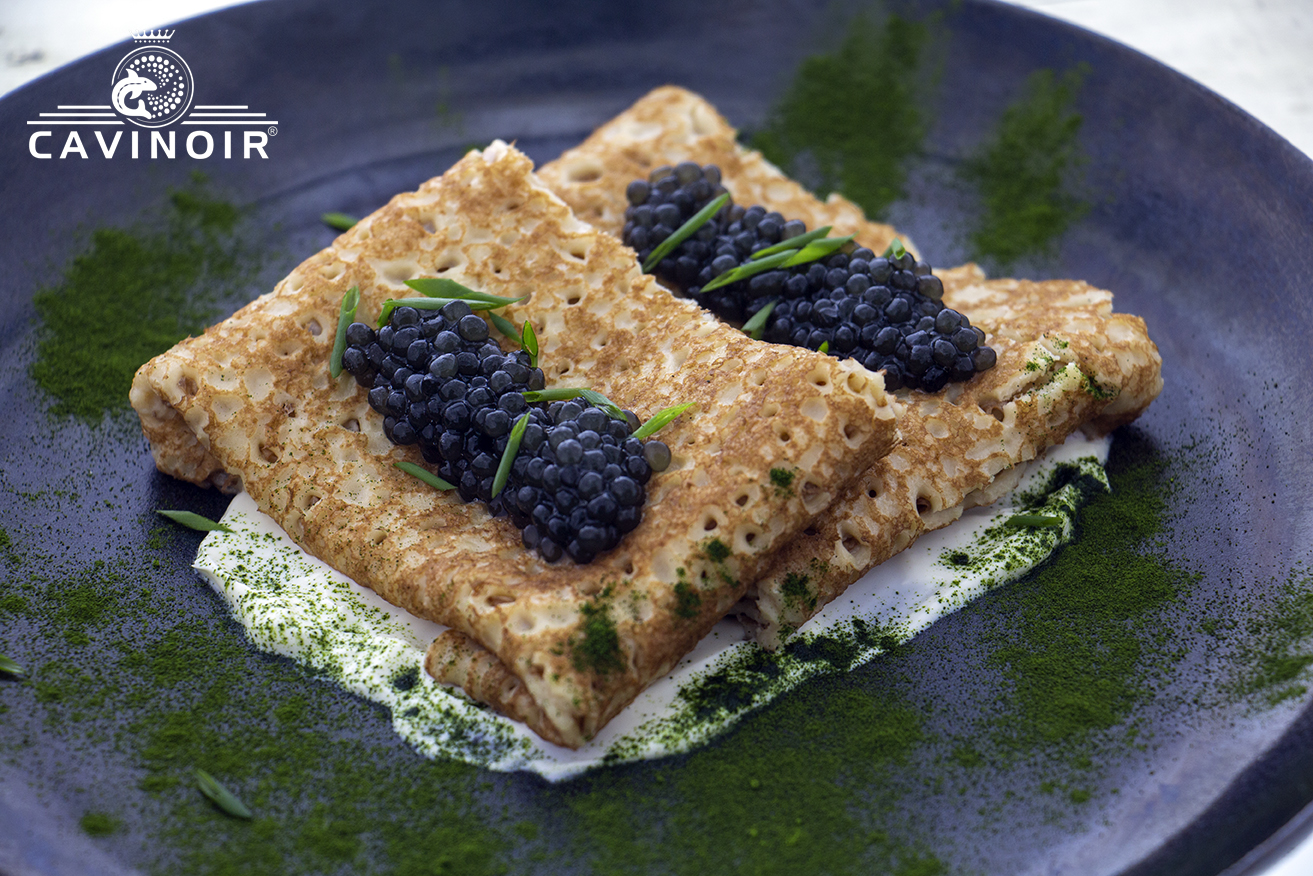 RUSSIAN CRÊPES WITH CAVINOIR®
BEREIDEN: Bake two paper thin crêpes per person. Aim for a size of around 16cm in diameter. SERVEREN: Place one table spoon of crème frâiche on a plate and smear with the back of a spoon. Fold the crepes in fours and arrange them next to each other on the crème frâiche. Place around 10 to 12 grams of Cavinoir® on every crêpe and garnish with some finely cut chives.
paper thin crêpes

4

container of crème fraîche

1

jar of 50 gram Cavinoir® imperial selection

1

packet of chives

1